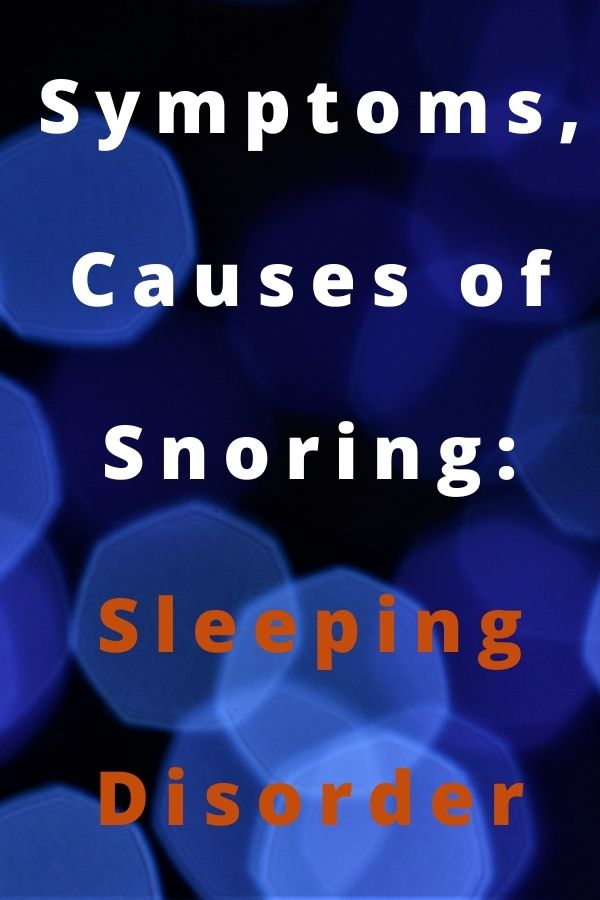 Are you aware of the symptoms and causes of snoring? It is surprising to know that almost half the population of adults has a snoring problem. Snoring is a disturbing sleep disorder that sleeping partners hate. To find a solution to this sleeping condition, we need to know what snoring is and the causes of snoring. It is a breathing sound by people during sleep.
The sound is by the cause of snoring. It is the blockage such as swollen tissue in the nasal passage that prevents the flow of air through our throat.
Symptoms and Causes of Snoring: Sleeping Disorder
We associate snoring with a common sleep disorder. In most cases, people can have fast relief from snoring with changes in their lifestyles and some specific exercises.
Because many factors cause snoring, symptoms of this medical condition vary. But as the disease can be a health issue, we recommend a careful analysis to identify the very kind the person is having.
If you feel tired unnecessarily, you could have obstructive sleep apnea, a potential condition preventing you from getting enough oxygen during sleep.
Are you falling asleep in unsuitable environments, such as at your office or having a meal or driving? You probably have obstructive sleep apnea, a disease that makes its victims fall asleep during waking hours.
When you see that your partner's snoring is too loud or characterised by pauses of no breathing at all, your partner may have the obstructive sleep apnea disease, most likely a respiratory condition. Read about the symptoms and causes of snoring to learn about sleep apnea disease.
The purpose of evaluation for snoring is to identify the potential causes of increased upper airway resistance. Besides sleep apnea, there are other ailments. These are treatable such as chronic nasal congestion because of rhinitis or sinusitis, deviated nasal septum, or enlarged tonsils.
Symptoms and Causes of Snoring: Common Cause Of Why You Snore
Old Age:
As you grow old, parts of your body experience some changes. Your throat, for example, becomes smaller, and the muscles in your throat also weaken. Even though there is not much you can do about your age; you can do something about your snoring with lifestyle changes. You can change your sleeping times, and do some throat exercises to help you stop snoring.
Being overweight or out of shape:
Fatty tissue and muscle tone contribute to snoring. Even if you're not overweight, having excess weight around the throat could make you snore. You can use exercise and weight loss alone to help you get rid of snoring for good.
The nature of your body:
Men are prone to snore as they have narrower air passages than women. Some characteristics of snoring like a slim throat, enlarged adenoids and a cleft palate are likely to be hereditary. Once again, while there's nothing you can do about your gender, you can manage your snoring with some changes in your sleeping habits and throat exercises.
Nasal and sinus problems:
Having your airways blocked makes inhalation very difficult and makes you snore.
Alcohol, smoking, and medications:
Alcohol consumption, smoking, and certain medications, such as tranquillisers like lorazepam (Ativan) and diazepam (Valium), can increase muscle relaxation and make you snore.
Sleep posture:
Suppose you sleep flat on your back, the muscles at the end of your throat relax and block the airway. Change your sleeping position to help you stop snoring.
Ruling out more some factors of snoring
Snoring could show sleep apnea, a sleeping ailment where your breathing pauses several times in the night. Snoring is a lesser sleeping problem in comparison with sleep apnea. Feeling tired and sleepy during the day? You may be having sleep apnea or other sleep-related breathing problems. Seek help from your health officials if you are alerted to the following sleeping issues:
If you snore and appear sleepy in the day-time
You stop or pause breathing, gasp, or choke in your sleep.
You fall asleep at wrong times, such as when you are having a chat or a meal during the day.
Discover the cause of your snoring and get treatment for it.
Observing the patterns of your snoring can help you identify the causes of your snoring.
How to prevent your snoring from getting worse

To determine why you snore, it will help if you can keep a sleeping journal. You may need a sleeping partner to help you record events of your sleep. If you do not have a partner and sleep alone, get yourself a camera to make recordings of your sleep.